Due to health problems, Ariane Lüthi recently put an end to her career. The marathon specialist, who boasts one of the best records in the world, talks to us about her career and her new projects, just a few days before the Raid Evolénard, where she will be coaching the next generation of runners on June 17 and attending the adult race on June 18.
You just end up your career after a couple of difficult months where you were fighting with health issues. Can you tell us a bit more about what happened and how you came up to this decision?
After I had contracted the Covid virus during the 2022 Cape Epic I never felt that I fully recovered and struggled with Chronic Fatigue ever since. I had trouble sleeping, was a lot more tired than usual and whenever I pushed myself out of my comfort zone, I had a hangover feeling for several days. I used to train close to 20 hours a week but since June last year I could hardly get to 5 hours of very easy riding. Many weeks I didn't ride at all, because I felt too tired or because I was sick again. In December I went on training camp to Spain where I was hoping to build up some fitness, instead I got a very bad tooth infection and was lying in bed for a week. My immune system was just not strong enough to handle any stress. After that I had to admit that I won't be able to get back into racing shape for summer 2023. At the same time I was pretty busy with our Pump for Peace Racing Team that I founded together with Claudio Caluori in 2022. I felt that it was much more important to put my energy into this project which I feel very passionate about and help these riders that have a much longer career still ahead of them than trying to get back into shape myself to perhaps win another race. Now that I am still not fully recovered and still terribly unfit, although I made an effort to very slowly build up my fitness, I know that ending my career was a very hard but right decision.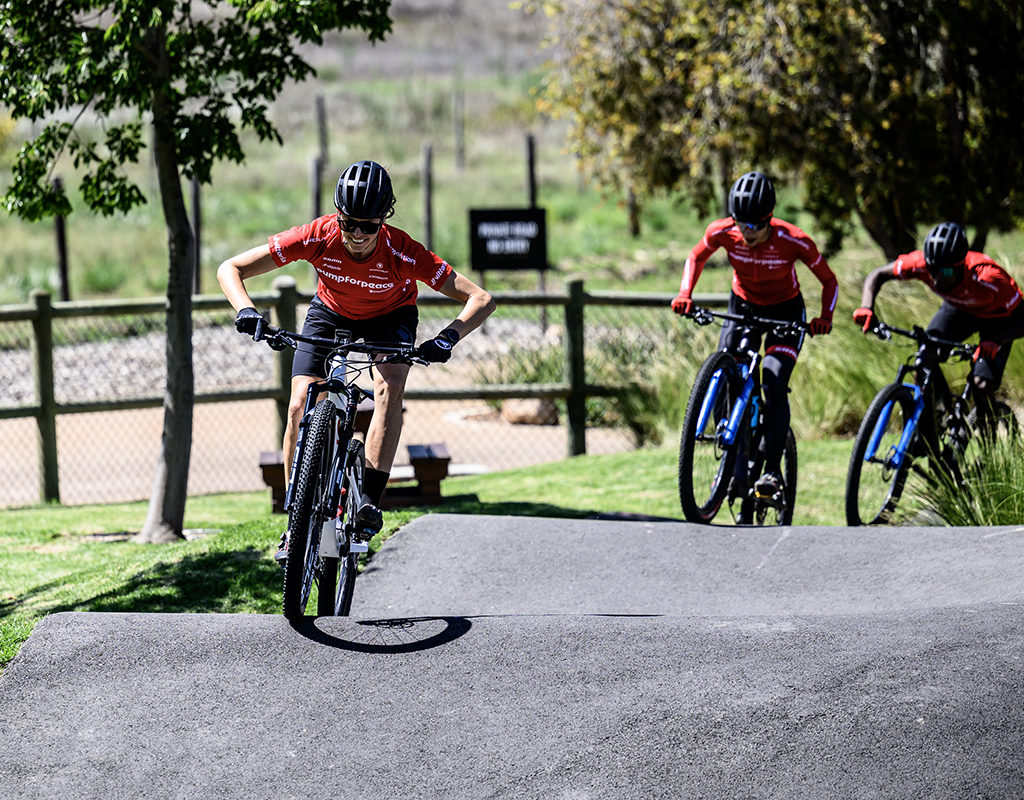 You have one of the most impressive track record in cross country marathon, with a record wins at the the Cape Epic, medals at the European and World championships and many Swiss titles. What are the successes you are the most proud of?
The bronze medal at the 2020 Marathon World Championship in Turkey definitely stands out for me. I was in the shape of my life and never believed as much in me as there. Winning a medal at Worlds was a goal I had worked for for 10 years and finally all the pieces fell in place, the feeling of that is just indescribable.
Apart of the race results I am mostly proud of the development I have gone through on a mental level over the 12 years I raced professionally. I used to be incredibly nervous before each race and was fighting mostly against myself rather than the competition. The night before my first Cape Epic in 2011, I didn't sleep at all because I was vomiting all night – due to stress, not a tummy bug. I used to be a mess leading up to this race and the World Championship every year. I'm happy to have grown in that aspect and that I managed to race my last years with much more joy and not in fear anymore.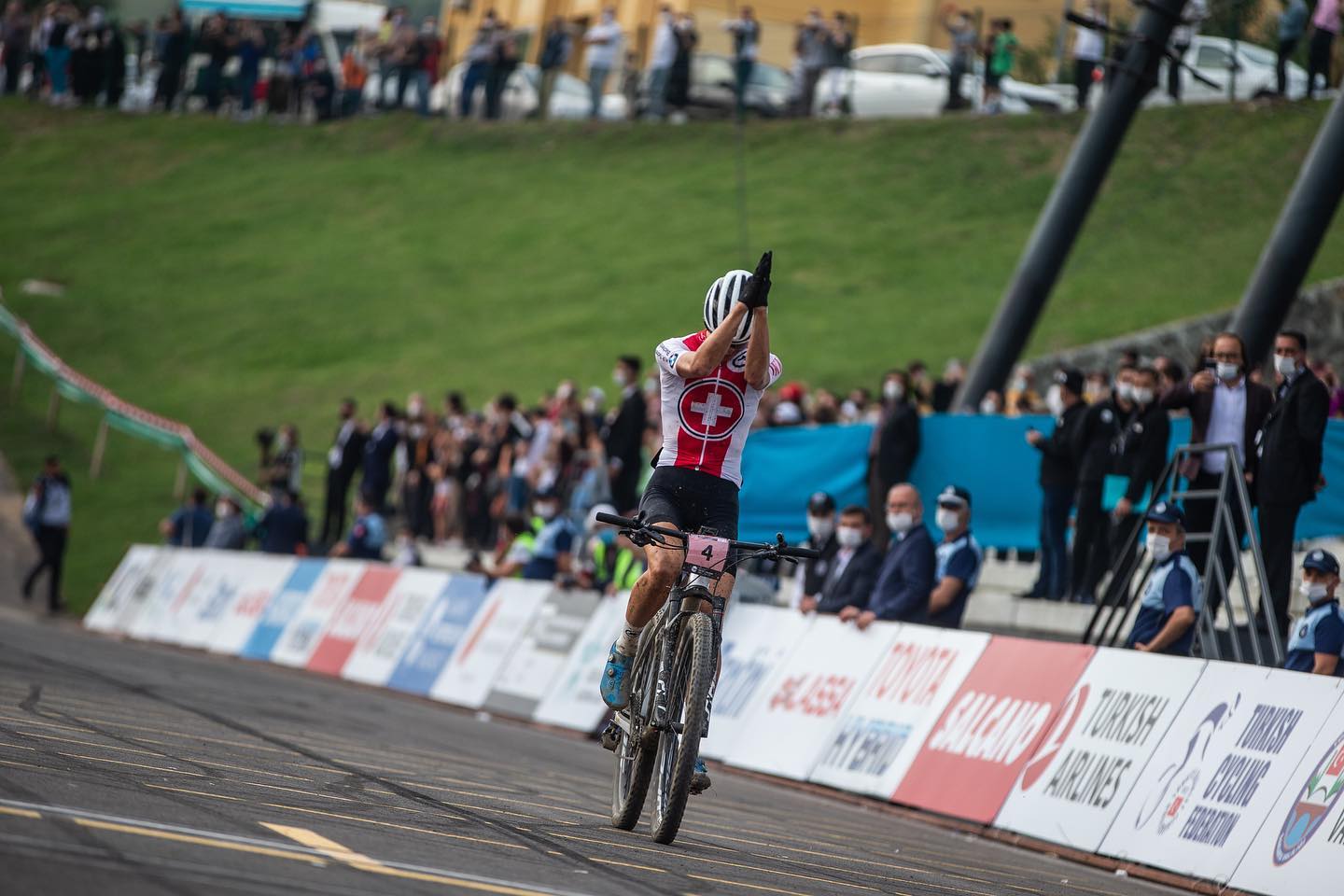 Another thing I'm looking back at with a smile is the advancements in striving for more equality and fairness in marathon racing which I was a part of. Together with the Cyclists Alliance, a rider union for professional female cyclists, we pushed for a separate start for women in marathon events and a non-drafting rule between categories. The separate start is now in the UCI regulations. The non-drafting rule isn't there yet, but the new UCI XCM World Cup doesn't allow drafting between men and women anymore which is a great success for fairer racing in my view.
You will be still active in the mountain bike world as part of the management of the team Pump for Peace. What is the concept behind this team and what is your role in this venture ?
Pump for Peace is a Non-Profit-Organisation initiated by the pump track building business Velosolutions which aims to make cycling more accessible for everyone around the globe by building pump tracks in underprivileged communities. Together with founder of Pump for Peace and Velosolutions and former DH pro, Claudio Caluori, we formed the team in 2022 to support Iranian female mountain biker Faranak Partoazar so she can participate at the XCO World Cups and has a chance to qualify for the Paris Olympics. Claudio has already envisioned to one day form a Pump for Peace team to support riders from difficult backgrounds for a long time and when I called him to help Faranak he immediately said yes. We added Tumelo Makae from Lesotho, who basically grew up next to Pump for Peace's first pump track in Roma, to the team to have enough UCI points and riders to make it a UCI registered MTB team. For 2023 we managed to acquire more sponsors which allowed us to add young South African talent, Unathi Nxumalo who grew up in a township in South Africa. Together with Andrea Raemy who used to work for Pump for Peace in its first years, I am now managing the team. I obviously try to pass on my experience as a former professional to the riders, but each rider still has their own personal coach. While Andrea is very busy sorting out visas, a huge hassle for our riders, and is booking all the flights and accommodation, I am responsible for the equipment of the riders and thus work closely with our sponsors. The most exciting part is supporting them at the races however. I feel extremely privileged to work with these talented, but very humble and grateful athletes who are leaders of the sport in their communities and inspire the next generation to dream bigger and lead a healthy lifestyle. As a team we aspire to help make the sport more colourful. To achieve a more diverse sport we support our riders to become role models and together we break down barriers not only for them but also for those who will to follow their path.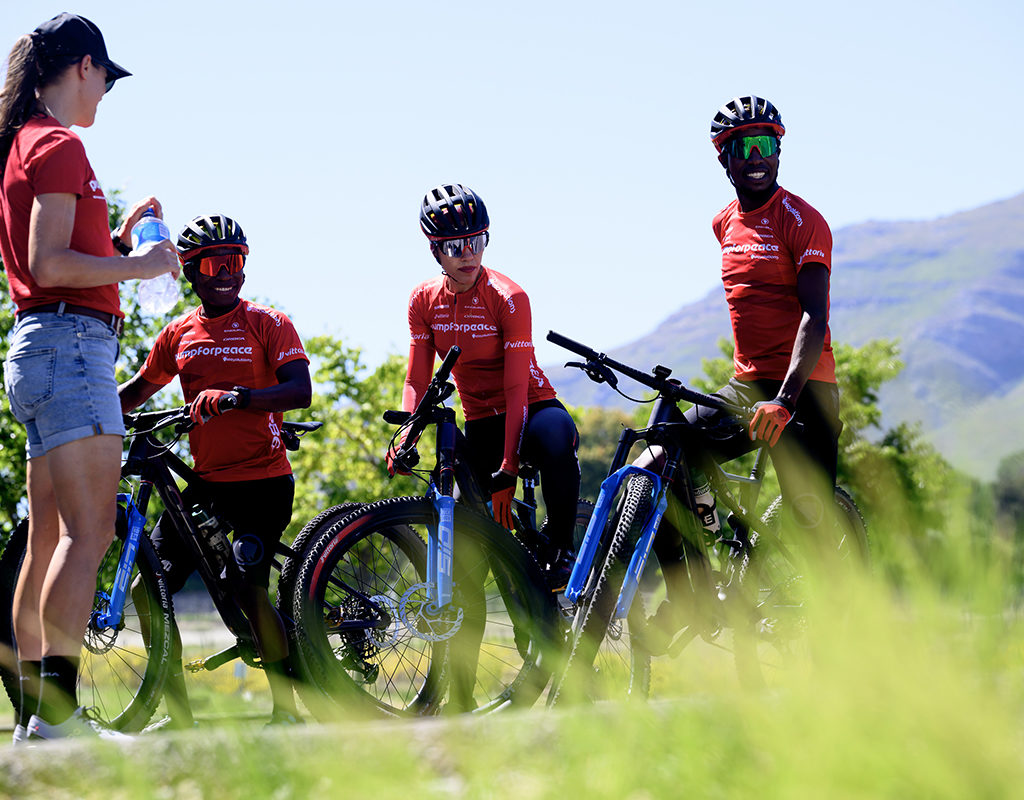 On the 17th of June you will again be present in Evolène to inspire the future riders during our traditional Kids Coaching Day. What motivates you to be part of this activity?
Firstly, I think it's a really great initiative of you, the organisers, to bring the (former) pros and potentially the future riders together which I very happily support. I used to teach kids swimming for many years to finance my studies as a sports student. I'm definitely still a better swimming teacher than mountain bike coach but I look forward to hopefully show the kids how fun it is to ride a bike off-road. 
5.      On the 18th of June you will follow the women race on your e-bike and make live video to allow MTB enthusiasts to live the Raid Evolénard from the inside. With a strong field, it's possible that the time established by Esther Süss in 2015 will finally be beaten. What do you think about this new generation of riders and do you already have a prognostic based on the riders who are already registered and the profile of the race?
It's very nice to see so many strong women from many different countries lining up in Evolène. It's going to be a very exciting race to follow. The new generation has started this sport mostly from a younger age than I or Esther have and are therefore more skilled. I'm happy to see the women's field growing but it should be growing faster in my opinion. There is still too few opportunities for women to race marathon professionally. But I hope that the new UCI World Series which XCM is a part of, will lead to more investment into the discipline.
From a Swiss perspective Janina Wüst and Irina Lützelschwab are very capable of winning the race, but Estelle Morel from France who has won the Grand Raid before and Bettina Janas from Germany who's a Swiss Epic Champion are very strong climbers too and will give them a good run for the money. And not to forget Greete Steinberg from Estonia who has won in Evolène before.